What are Plugs?
Our anus has thousands of sensitive nerve endings that can make you feel incredible sensations when stimulated. But how do you get to them when they're hiding in your ass? Of course, a partner's finger or penis can help, but there's another super-pleasant option if you're looking forward to a little more fun :)
This is where a plug can come in: a toy that is molded to fit the body and help you explore the pleasures beyond the back door!
Plugs come in different shapes, sizes and materials, so the best one for you will depend on your experience, anatomy and what kind of sensations you are looking for.
With proper preparation and progression, a butt plug can offer a new (and potentially more intense) path to orgasm.
The anal canal measures about 1-1.5 cm in length and is made up of two muscles or rings: external and internal.
The external muscle is one that you can deliberately tighten and relax. It is also the one you find first when you insert a toy or a finger up your ass. The inner muscle, on the other hand, is controlled by the nervous system, so it cannot be controlled in the same way (its job is mainly to prevent poop from escaping). Both muscles are full of nerves so they are super sensitive and when stimulated they will work wonders.
One really important thing to know about the anus is that it does not self-lubricate. So, if when inserting a toy, a finger or a penis, it will definitely be necessary to use an anal lubricant for a good glide, more comfort and safety.
Shapes
Going back to the plugs, their most usual form consists of a wide base, a slender neck and a termination that tapers into a point.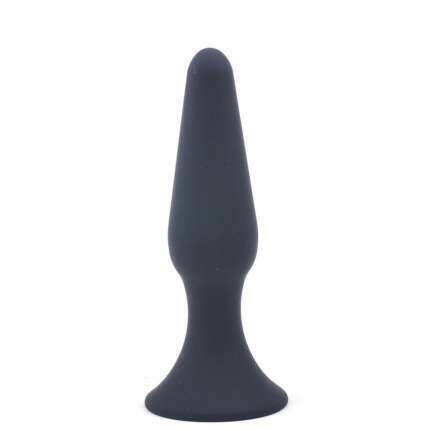 This shape allows for easier insertion, while the slimmer ending gives it a pleasant "full-up" feeling once it's inside. There's also a slim neck to ensure the plug stays in place, and the wide base prevents it from going too far, i.e. getting in. You should definitely never put anything up your butt that doesn't have a wide base, as there is a very real risk of over-insertion.
There are also curved and angled plugs to stimulate the prostate or P-point.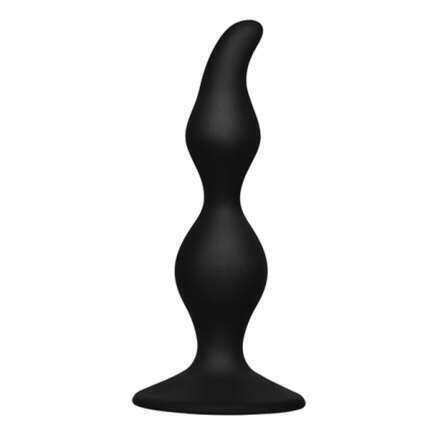 Some vibrate and come with commands that can add an exciting element to the couple's game.
When starting out, a small plug is best for beginners. The anal opening is where the greatest concentration of nerve endings are, so even a small plug can provide incredible sensations.
Plug types

- Silicone ones: they are firm but flexible, bending with every movement. They are silky to the touch and are only compatible with water-based lubricants.

- Glass and metal: they are rigid and offer a firmer and heavier stimulus. They are temperature sensitive, so they can be heated or cooled to add sensations of hot and cold.
-The steel ones are the ones that will provide the most heaviness sensation and will greatly intensify the anal game. PVC ones that are also collapsible that are also flexible latex and smooth plastic coated.
Before using a plug it's important to make sure you don't need to do any anal hygiene to feel clean.
Butt plugs can be used in many ways and are a great way to prepare yourself for anal sex. It will help you get used to relaxing your muscles before anal sex. And very importantly, anal play doesn't have to lead to anal sex - you just have to do it when you're comfortable.
Anal training kits with different sizes of plugs will help you get used to the sensations and so you can slowly work your way up. It doesn't even matter how experienced you are at anal play, it's important to always warm up with smaller toys first before leveling up.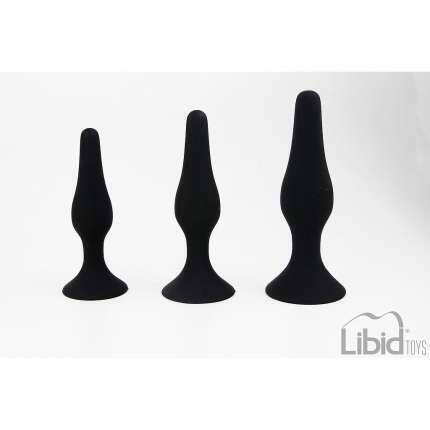 The 7 Steps to Using a Plug
Just follow these steps!
1st Cover the plug with plenty of lubricant and place yourself in a comfortable position.
2º Place the tip of the plug against the ass and push it inside. As the plug enters, it will pass through the super sensitive external muscle and that can already give you some pleasure.
3º As it goes in, the plug will find the internal muscle. Give it time and remember that a little discomfort is normal, but if you feel any pain it's important to stop.
4th When the plug is in place, you should feel a feeling of fullness. You can feel the plug against your P-spot or prostate.
5th You can gently tighten and relax the muscles and alternately, moving the body for an internal massage without hands.
6th If you climaxed while using the plug, the muscles in that area have just contracted. That means you'll need to wait a minute or two to relax your muscles before removing the toy.
7º Finally, you should pull gently, wash with warm water, wash your plug well and, preferably, let it air dry.